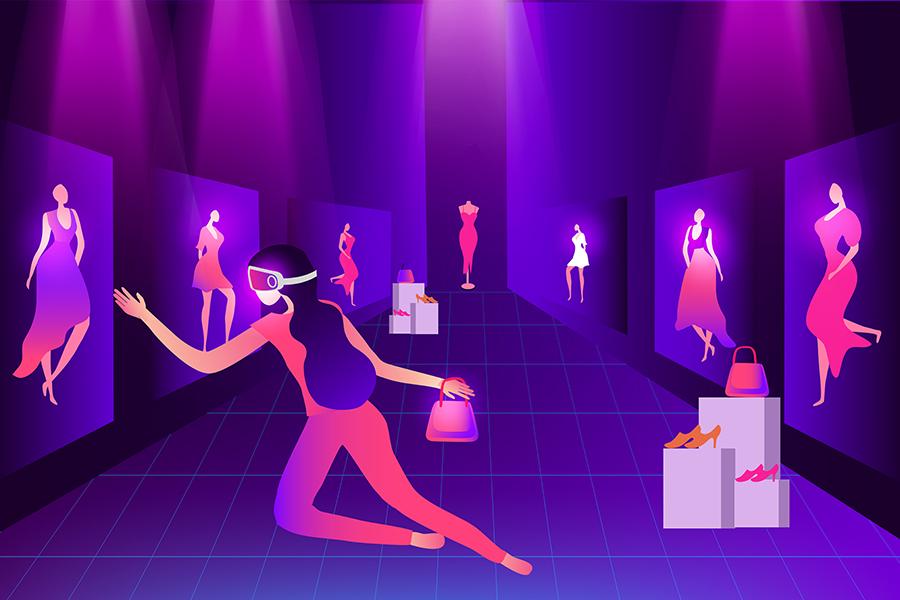 Online shopping is now well-established as a more convenient and often cheaper way to buy consumer goods. But it has never been a particularly pleasurable or a fun experience. At best, it's reasonably frictionless, but it's also utilitarian, rewarding a shopper who knows what they want—a particular brand of coffee, for example. A particular issue is when physical dimensions are critical. Clothing is an obvious example, but for high-value items that cannot be returned easily, such as furniture, this can be a real hindrance.
The metaverse promises to change that, with brands creating innovative, immersive spaces where our digital twins can browse for virtual representations of real-world goods. Our avatars will be able to look at virtual 3D versions of a chest of drawers from all angles and even try out virtual versions of them in 3D visualisations of our own homes or try on a pair of virtual sneakers before ordering, confident we have made the right choice.
Transcending real-world problems with digital products
We are already in the metaverse age: If we consider immersive games such as the early-noughties Second Life, through massively multiplayer online role-playing games including World of Warcraft, Eve Online, and more recently Red Dead Redemption II, as current examples, it's clear that some of the technology needed is already in place.
In retail, metaverse-adjacent tech is already being deployed. For example, paint brand Dulux offers an app where you can visualise a paint colour in the room you're planning to decorate. UK DIY chain B&Q also offers an augmented reality app that projects furniture and fittings into a real home.
However, building a fully immersive metaverse requires huge investments in infrastructure as well as a focus on deep interoperability. That, in turn, requires platform-agnostic standards to connect the immersive spaces being built by individuals and brands into the overarching metaverse.
Participants will have to be able to manage ownership, identity and data. To fully participate in the metaverse, customers will need to be equipped with the infrastructure to access these spaces, from head-mounted displays to fast and stable broadband.
Some technologies needed to enable the metaverse are already in place, and there is steady growth in their adoption. In connectivity, 5G is rolling out: China has enabled the technology in 541 cities, with the US, South Korea, and the UK next in the rankings, according to Statista.
In India, the government has said that 5G connectivity will be available in 13 cities by the end of 2022, including Delhi, Mumbai, Kolkata, Chennai, and Bangalore.
Meanwhile, shipments of VR (virtual reality) headsets are growing: Statista reports that they are expected to grow globally from 9.86 million in 2021 to 14.2 million this year and 18.8 million in 2023.
Issues of sustainability and trust
One reason some technologies aren't ready for the mainstream is that they are not yet trusted. There are environmental concerns around blockchain technologies: Proof-of-work blockchains consume enormous amounts of energy. According to an analysis by Cambridge University, the Bitcoin blockchain uses more electricity per year than Argentina.
In the UK, sports teams have started using NFTs to monetise fan attention, selling tokens to offer enhanced interaction and experiences to supporters. There is concern about how appropriate it is to sell sophisticated digital assets such as NFTs and tokens to people with little experience with these technologies. Regulators are starting to pay closer attention to these ecosystems—entities looking to build retail experiences based on these technologies need to pay close attention to this.
There is also concern about the amount of data that could be collected in these immersive spaces. Consumers and regulators lack trust in the opaque ad tech that collect data, all the more so after the scandal of Cambridge Analytica, and there is a growing reluctance to share data. Firms that are transparent about how they use data and the benefits to consumers stand to overtake their competitors.
Companies that want to build a metaverse experience for their customers will have to address those issues and consider how they can reconcile concerns about blockchain technology with their sustainability goals and, of course, their reputation. Young consumers are particularly conscious of environmental and reputational credentials, and businesses will have to consider how to win their trust and loyalty.
Support for building the vision
Organisations will need to look to companies that can support them in their vision for the metaverse. Several companies are investing in extended reality and blockchain technologies and building early versions of the metaverse of their own. Initial experiments are happening across various spaces. For instance, at the Australian Open tennis tournament, fans could visit a VR store to virtually try on clothes and witness other such immersive experiences. They could also watch live match broadcasts with friends in an immersive virtual space, thanks to the Australian Open 360.
As fibre and 5G networks roll out, bringing fast, solid broadband to a much wider user base, it's clear that the underpinnings of the metaverse are already in place. Companies that understand the potential pitfalls while embracing the opportunities to build great experiences for their customers have everything to play for.