Following the launch of the governance token of Ethereum layer-2 scaling platform Optimism, the network has recorded a massive boost in the total value locked (TVL) on the platform.
According to data provided by L2BEAT, upon the launch of the Optimism OP token on May 31, 2022, Optimism's TVL soared to nearly $1 billion.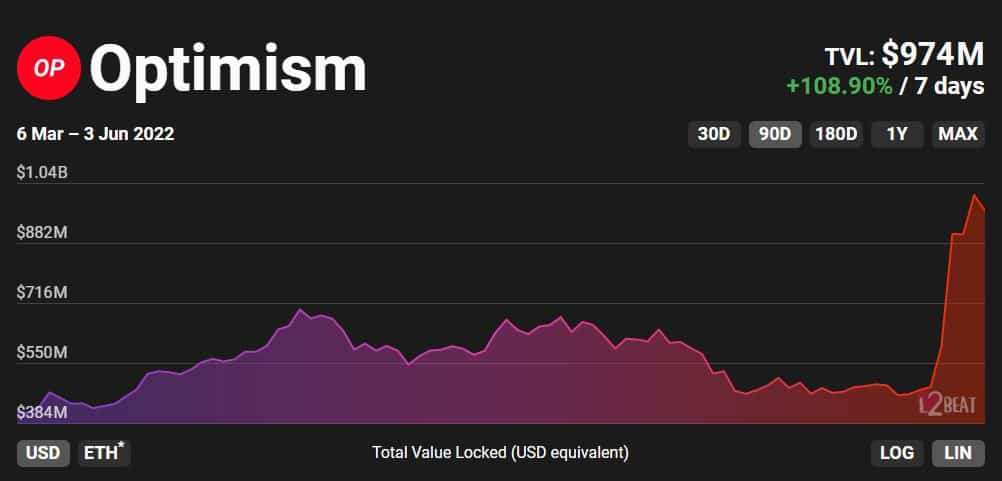 Optimism TVL Dipped Slightly
Optimism's TVL has surged 108.9% in the last seven days to $974 million. It is worth noting that the total value locked in various protocols based on Optimism had soared as high as $1.01 billion on June 2, 2022.
Recall that Optimism distributed the tokens in an airdrop to different beneficiaries. According to reports, 5% of the token's supply was distributed to members of the community who quickly proceeded to offload the tokens in the market, thus causing its price to crash.
OP quickly plummeted from a high of $4.5 to a low of $1.20 at the time of its launch.
However, as the value of the cryptocurrency suffered massively following efforts from many beneficiaries to sell their airdropped tokens, Optimism's TVL dipped from $1.01 billion to $974 million.
Optimism Ranks Second in Ethereum L2 TVL
Despite the dip, Optimism TVL is still doing remarkably well in terms of total locked-up volume for all Ethereum L2 platforms.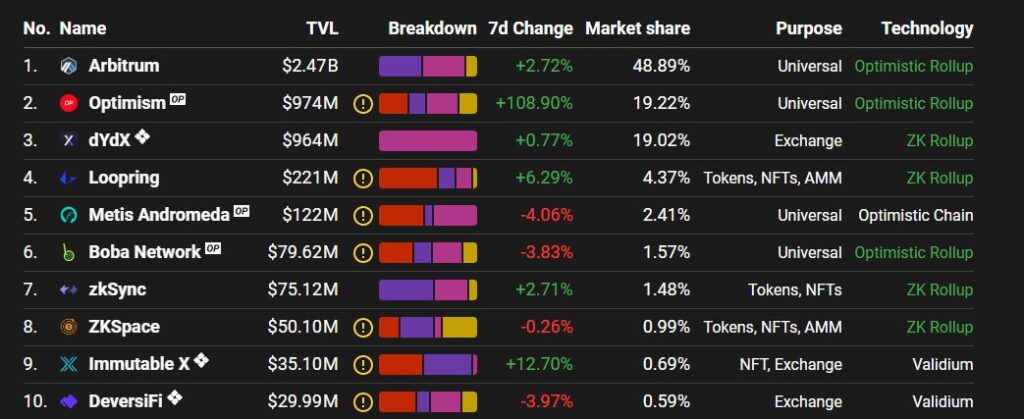 As of June 4, a total of $5.06 billion is locked up across various Ethereum Layer-2 scaling platforms.
In the data provided by L2BEAT, Arbitrum, an Ethereum L2 scaling platform, ranks as the top project with a total value locked of $2.47 billion, representing 48.89% of the $5.06 billion total value locked.
Optimism's $974 million worth of TVL puts the project in the second position. Optimism's $974 million TVL suggests that the network owns 19.22% of the $5.06 billion locked across various Ethereum L2 scaling platforms.
Meanwhile, the price of a unit of OP is changing hands at $1.40, data on the popular cryptocurrency aggregator platform CoinMarketCap shows.